Welcome to HutchBook.com!
Note: Permission is granted to quote HutchBook information only if the source is properly cited, including the HutchBook.com URL.
Seeking information about specific Hutchinson bottles? Click this Bottle Directory link to the HutchBook database cataloguing over 19,000 different Hutchinsons!
Do you want to contact knowledgeable individuals concerning specific Hutchinson bottles? Click this Collector Specialists link to access the listings.
Unsure if your bottle is a true Hutchinson? Click this Hutchinson Bottle Sales Guide link to review the illustrations and descriptive information.
Thinking of contacting us? Click this Contact Us link to review HutchBook.com guidelines and contact information.
◄◄ HutchBook News►►
Posted: May 25, 2015
19,000th Hutchinson Catalogued!
We have been steadily closing in on cataloguing the 19,000th different Hutchinson for several weeks and new submissions during the Memorial Day weekend finally pushed us over the top. Las Vegas odds makers had the line at 10 to 1 that a Pennsylvania Hutchinson would likely be bottle #19,000 but at the last minute a clear Bristol, Connecticut Hutchinson snuck in and stole the title. The winning bottle is embossed E. J. FITZPATRICK / BRISTOL, CONN. / REGISTERED (near base) and has been catalogued as CT0042.8. This is the ninth Hutchinson catalogued from Bristol, and the first for E. J. Fitzpatrick.
When bottle #10,000 was catalogued in 2004 we naively declared there was "no way" we were ever going to reach the 11,000 mark. Unfortunately, similar wrong projections have been made as we have sailed right past every 1,000 more that have been added since then. So, to be consistent it seems appropriate to say "There is no way we are ever going to hit the 20,000 mark!" Until we see whether or not that prediction pans out, keep sending in the new ones and we will keep right on cataloguing them.
Today's HutchBook.com database update marks another milestone as we have now posted over 13,400 Hutchinson images. We continue to plow thru the paper files and are currently in the midst of the Minnesota file. Please keep those photos coming!
Posted: April 23, 2015 (updated May 27, 2015)
Robert J. Harms Sr. - 1926-2015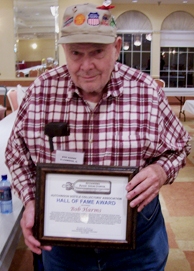 We are deeply saddened to report the passing of Bob Harms, an internationally known Hutchinson collector specialist from the Chicago area. When formulating guidelines for the Hutchinson Bottle Collectors' Association's prestigious Hall of Fame Award, Bob was our role model. He was elected as a charter member in 2012. Bob's numerous and lasting contributions continue to inspire and encourage the growth of collecting Hutchinson bottles. Rest in peace, my friend.
Bob Harms at the 1st Chicago Bottle Club's 2012 show (image courtesy of Ray Komorowski)
From the ChicagoSunTimes.com
:
Harms Sr., Robert J. April 18, 2015, Age 88. Late of Glenwood, Formerly of Riverdale. Beloved husband of the late Barbara Ann Volkman Harms (nee Orseno); dear father of Sharon (Bill) Hogan, Robert (the late Donna) Harms, Jr., Dr. Therese (Rick) Whitt and Carolyn Harms; stepfather of Steven (Victoria) Volkman, Valerie (Paul) Johnson, Denise (Roy) Mueller, Alison Williams, Keith (Debbie) Volkman, Tracy Andrade, the late David Volkman and the late Arthur G. Volkman, Jr. Survived by many grandchildren and great-grandchildren; brother of Albert J. Harms. World War II U.S. Navy Seabees veteran. Former Dolton, IL policeman and fireman. Member of Local 150 MOE. Lifetime member of Federation of Historical Bottle Collectors and active member of First Chicago Bottle Club. He enjoyed sharing numerous stories with family and friends. Resting at the Tews-Ryan Funeral Home, 18230 Dixie Hwy., Homewood, Friday, April 24th, from 3:00 p.m. until 9:00 p.m. Funeral Saturday, April 25th, 9:15 a.m. to St. John Catholic Church, 301 Cottage Grove, Glenwood. Mass 10:00 a.m. Interment St. Mary Cemetery. Memorials to the church would be appreciated. www.tews-ryanfh.com or 708-798-5300.
Updated: March 13, 2015
New Hutchinson Lists Posted: March 10, 2015
The Hutchinson Lists page provides quick access to pre-defined, printable, .pdf lists of Hutchinson bottles from each country, state, territory, and province. Users are finding the Hutchinson Lists a convenient way to inventory their collection, and a handy accessory when attending bottles shows and sales, and visiting antiques shops.
Reminder: the Hutchinson Lists are "snapshots" of the HutchBook.com database as of a specific date and only updated periodically. To view the most current data available(updated daily), always navigate to the Hutchinson Search page and search on the country, state, territory, or province of interest.
Navigate to the Bottle Directory pages to access the Hutchinson Lists menu.
Posted: December 31, 2014
Goodbye 2014, Hello 2015!
Our highest priority for 2014 was to continue posting Hutchinson images, and that has certainly been our focus all year long. We have more than doubled the total number of images posted this year, boosting the grand total to 11,320. All e-photos received via EMail and gleaned from on-line auction sites have been processed and we are steadily working thru 35+ years of paper files. The paper files are very slow going because of the additional time required to scan the images. We have also been posting pencil rubbings where they are the only available image and hope in time to replace them with photos. The Alabama thru Kansas (with the exception of Arkansas) paper files have been completed and we are currently working on Kentucky. Many files remain to be worked, so our goal has been revised to hopefully complete the paper file review by year end 2015, a very challenging objective.
The other 2014 HutchBook priority was the Hutchinson Bottle Collectors' Association. Our repeated attempts to increase interest in the HBCA have not been successful, and any further development has been placed on the back burner for now.
Here are the numbers for 2014:
Daily updates: 360

Individual listings updated: 5,796

New Hutchinsons catalogued: 865

Total Hutchinsons catalogued: 18,793

Hutchinson Lists updated: twice

# Hutchinson images added: 5,820

Hours invested: 1,650
Our thanks to all of you who have provided (and continue to contribute) data and images to the Hutchinson Bottle Directory initiative. Your willingness to share information with your fellow collectors is genuinely appreciated. Today marks the end of our eleventh consecutive year of non-stop effort on this project and it continues to be great fun. On to year number twelve.
Posted: May 19, 2014
Is Your Bottle A "True" Hutchinson?
Numerous on-line auction sellers often do a so-so job of describing the bottles they are listing and are left wondering why their bottles didn't sell. We routinely see Hutchinsons incorrectly listed as whiskeys, milks, medicines, beers, and other categories, and an even broader array of bottle styles incorrectly described as Hutchinsons or "Hutch type" bottles. We understand the challenge facing sellers who have little or no bottle collecting knowledge, but continue to wonder why so many experienced bottle collectors often fail to accurately describe their bottles. Understanding the different types of closures is not rocket science, even for those styles that are often confused with bottles that utilized Hutchinson's Patent Spring Stopper. Several years ago we posted an informational page on GreedyBay in an effort to help novice sellers better describe their bottles and hopefully improve their sales success. So few sellers were finding, reading, comprehending, and using the material that the page was removed and added to HutchBook.com's Collecting section. Please review the expanded Hutchinson Bottle Sales Guide and consider incorporating the suggestions into your on-line bottle listings. Here's a link to the page:
HutchBook.com Development
HutchBook.com is designed to serve as a widely used reference source that will benefit collectors, historians, archaeologists, and other interested users. The Hutchinson Bottle Collectors' Association (HBCA) sponsors free public access to HutchBook.com. HBCA members support and promote historical research by collecting, preserving, studying, documenting, displaying, communicating, and sharing information about the antique bottles that utilized Charles G. Hutchinson's Patent Spring Stopper.
Since the Hutchinson Bottle Directory initiative's founding in 1976, over 1,000 people have contributed bottle data and related information for this project. The following portions of the site document the project's historical development:
HutchBook.com Implementation
Phase I: Hutchinson History (launched September 30, 2009)
HutchBook.com Phase I focuses on historical development of the North American soft drink industry during the 1879 to World War I Hutchinson Era. Site content includes extensively researched, factual documentation concerning: the origin of the term "soda pop;" the evolution of bottle closures, including 30+ stopper patents often confused with Hutchinson's Patent Spring Stoppers; a history of the W. H. Hutchinson and Son company; Hutchinson's lawsuits; the American bottling system; pre-Hutchinson Era bottling; Hutchinson bottles; the Hutchinson bottling process; and much more. Printed out, the content is 300+ pages in length!
Phase II: Bottle Directory (launched August 1, 2012)
HutchBook.com's newest feature is the Hutchinson Bottle Directory, a fully searchable, free access database cataloguing extensive data about over 19,000 different Hutchinson bottles. The powerful new "Hutchinson Search" engine is a gateway to detailed data about the Hutchinson bottles utilized in all U.S. states and territories, Canadian provinces, and several foreign countries. Users have access to numerous pre-defined, printable lists of Hutchinson bottles, plus lists of bottles in popular collecting categories, such as colored and picture Hutchinsons. The database is continually updated to ensure users have access to the most current and accurate Hutchinson information available.
To access the database and its related features, click on the Bottle Directory link located in the left side navigation bar on any HutchBook.com page.
Phase III: Bottle Illustrations (commenced August 1, 2012)
Phase III is the addition of photographs, scans, and computer-assisted drawings to accompany individual Hutchinson bottle listings. Over 13,400 images are now posted on-line, with thousands more to be added in months to come.