Welcome to HutchBook.com!
Note: Permission is granted to quote HutchBook information only if the source is properly cited, including the HutchBook.com URL.
◄◄HutchBook.com Links►►
◄◄ HutchBook.com News►►
Updated: November 24, 2016
2016 HBCA Honor Roll Award Recipients Announced
Thanksgiving Day affords a perfect opportunity to announce the 2016 recipients of the Hutchinson Bottle Collectors' Association's Honor Roll Award. This prestigious award recognizes those individuals whose significant contributions encourage the growth of collecting Hutchinson bottles. All of this year's recipients have demonstrated strong support for the Hutchinson Bottle Directory initiative and HutchBook.com. Several of them have also contributed to our hobby's steadily growing body of knowledge via their research by authoring and publishing books, plus magazine, newsletter, and Internet articles. Without exception, each of the recipients routinely magnifies their own enjoyment of Hutchinson collecting by investing considerable time and energy into sharing their expertise with others. They have all earned their Honor Roll Award recognition many times over and their support for our hobby is greatly appreciated. Congratulations and THANK YOU to the
2016 HBCA Honor Roll Award recipients:
Ken Badgley – Brooksville, FL: author of the Collector's Guide to Tampa Embossed Soda Bottles 1880 to 1939; avid collector of West Central Florida Hutchinsons
Brandon DeWolfe – The Woodlands, TX: avid collector of New Hampshire and Galveston,Texas Hutchinsons
Jim Eifler – Woodland Park, NJ: avid collector of Paterson, New Jersey Hutchinsons
David Gilson – Gibsonia, PA: avid collector of Pittsburgh, Pennsylvania and fifty state Hutchinsons
Sam Greenberger – Sonora, CA: avid collector of Hutchinsons
Leon Hampton – Warren, MI: avid collector of Michigan Hutchinsons
Chris Jordan – Valparaiso, IN: avid collector of Chicagoland Hutchinsons
Jay Kasper – Shiner, TX: avid collector of Texas Hutchinsons
Pete Mehalco – Johnstown, PA:

avid collector of Pennsylvania, picture, and fifty state Hutchinsons
Philip Pfeiffer – Pensacola, FL: author of Pensacola's Soda Water Legacy 1837 - 1938; avid collector of Pensacola, Florida Hutchinsons
Each 2016 inductee will be receiving an HBCA Honor Roll Award certificate.
Updated: April 24, 2016
New Hutchinson Lists Posted: April 24, 2016
The Hutchinson Lists page provides quick access to pre-defined, printable, .pdf lists of Hutchinson bottles from each country, state, territory, and province. Users are finding the Hutchinson Lists a convenient way to inventory their collection, and a handy accessory when attending bottles shows and sales, and visiting antiques shops.
Reminder: the Hutchinson Lists are "snapshots" of the HutchBook.com database as of a specific date and only updated periodically. To view the most current data available (the database is updated daily), always navigate to the Hutchinson Search page and search on the country, state, territory, or province of interest.
Navigate to the Bottle Directory pages to access the Hutchinson Lists menu.
Updated April 22, 2016
So Many Bottle Books, So Little Time!
We are definitely in the midst of a publishing explosion for soda bottle-related reference material. In addition to those books we have highlighted and added to HutchBook.com's growing list of "Bottle Books For Sale" (listed in the Collecting section) since late last year, we are very pleased with the recent acquisition of two more outstanding volumes. Both of these books were authored and published by Dennis Smith, a nationally-known soft drink collector and authority, outstanding historical researcher, and major contributor to the body of information available to those of us interested in the soft drink industry. Click the title links posted below each cover illustration and navigate directly to separate pages detailing the contents of each of Dennis' latest books and how to obtain copies.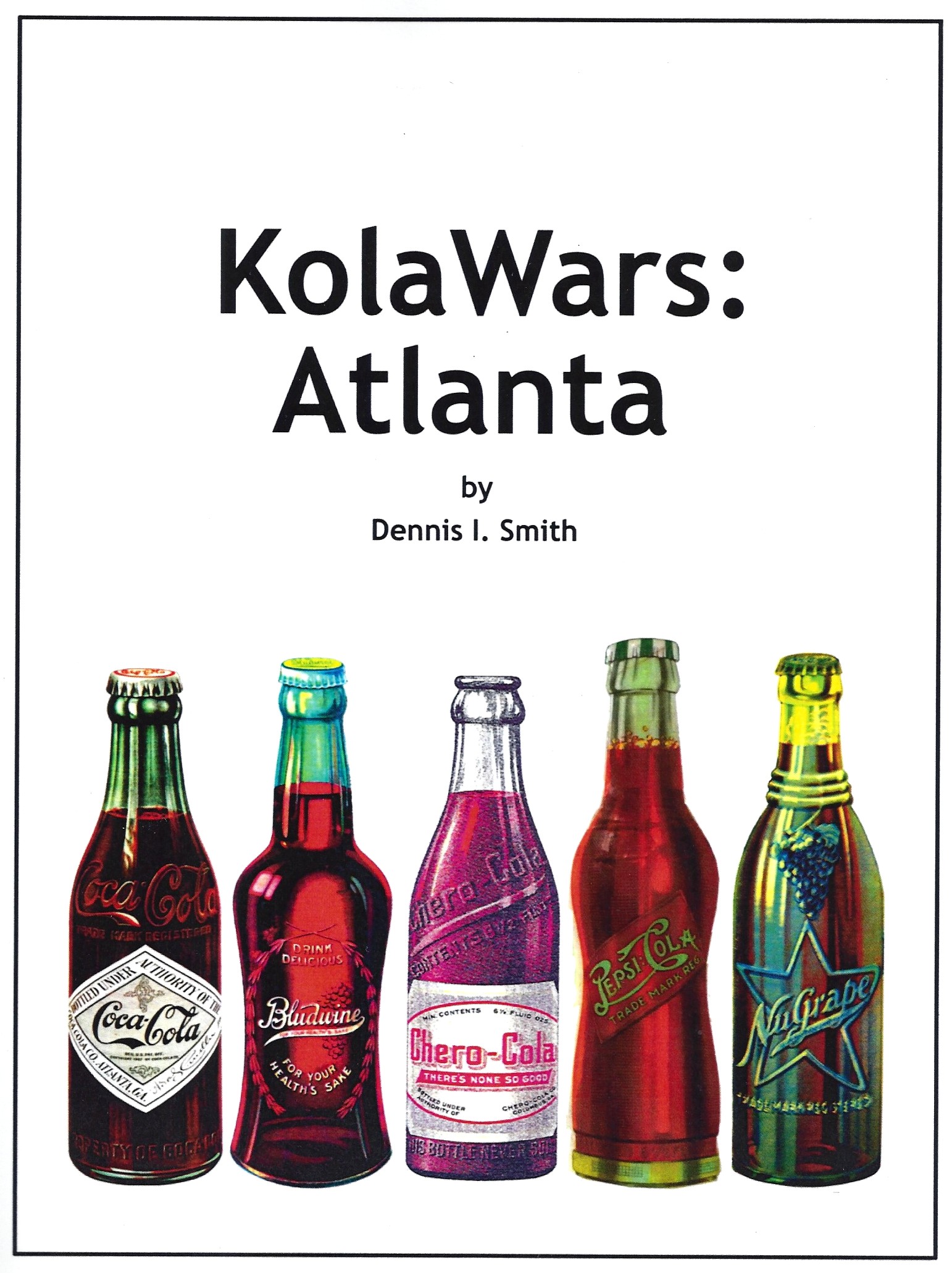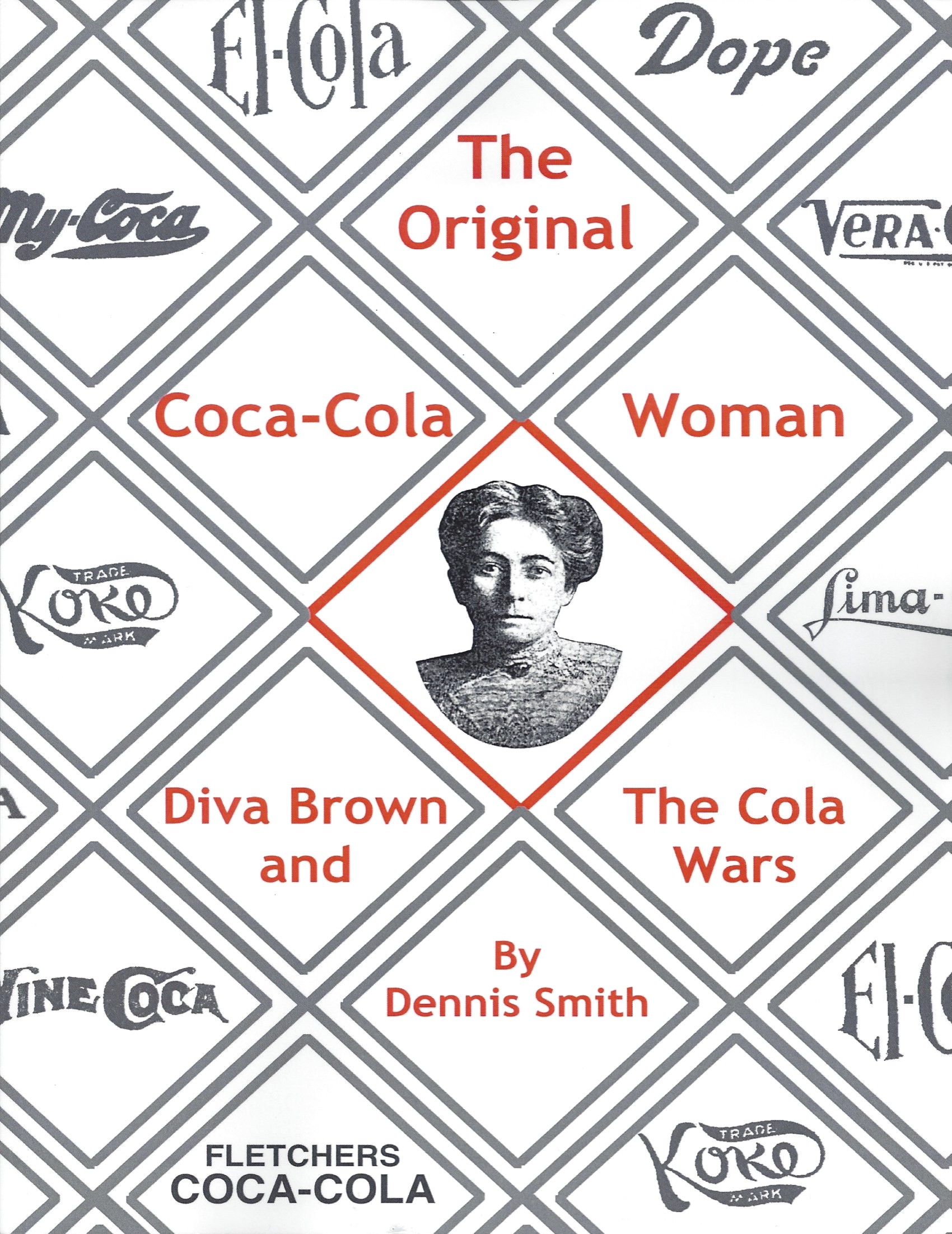 The Original Coca-Cola Woman: Diva Brown and The Cola Wars
Updated March 26, 2016
Pensacola's Soda Water Legacy 1837-1998
Our January 26, 2016 posting comment that "good things come in threes" was wrong; they actually come in fours! We have just acquired a copy of Philip A. Pfeiffer's book, Pensacola's Soda Water Legacy 1837-1998, a top quality addition to our library of bottle-related books. Philip has skillfully combined the information he has gathered during 25+ years of historical research with a multitude of bottle and other related images, producing a volume that is both entertaining and informative. Included in this history of Pensacola's early soda bottlers is extensive historical information and numerous illustrations concerning the Escambia Pepsi-Cola Bottling Company, the bottling plant that utilized the only known embossed Pepsi-Cola Hutchinson bottles. Philip's book is another major contribution to our hobby's growing body of quality publications and an excellent resource.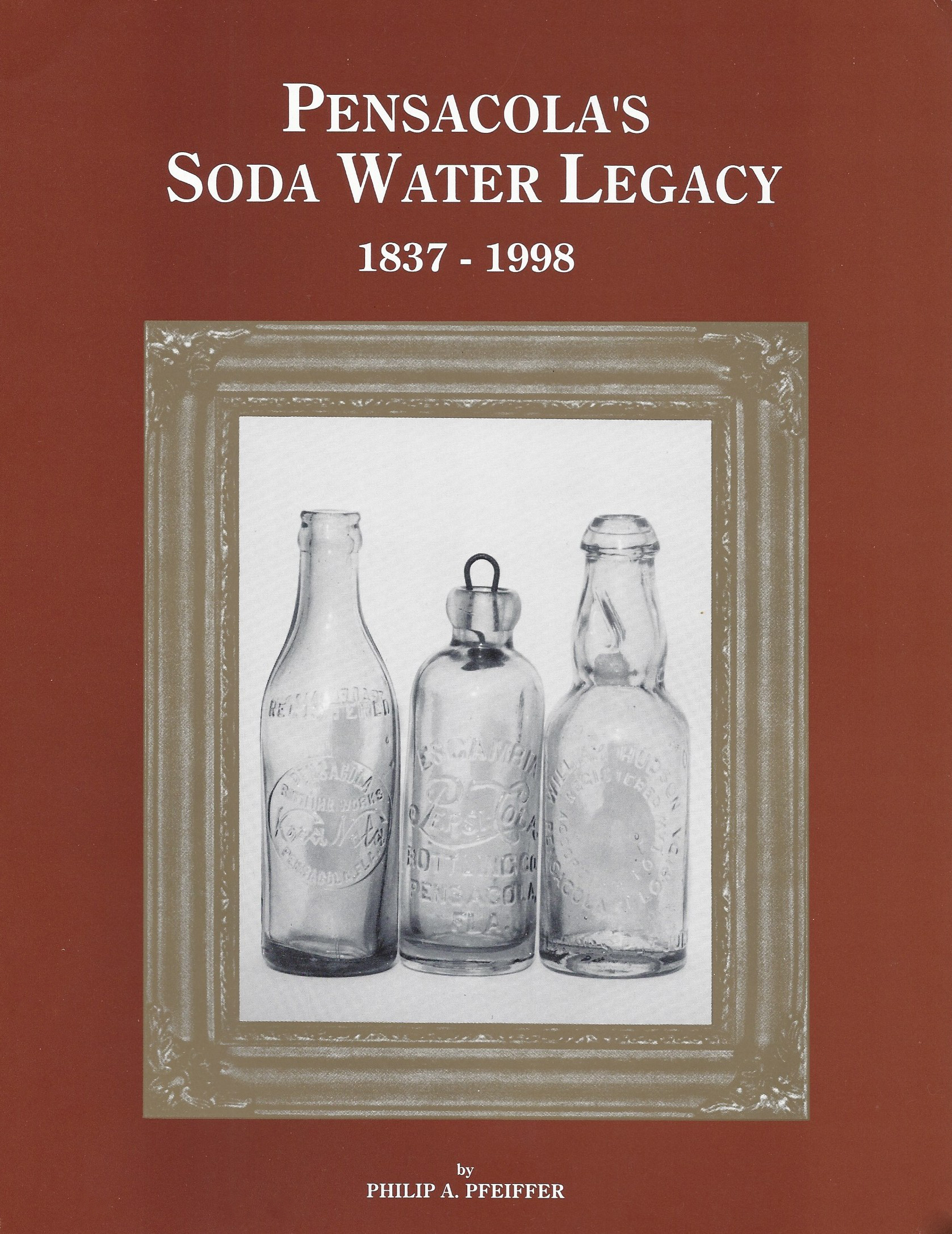 Click the following link to navigate directly to HutchBook.com's "Bottle Books For Sale" page with full details about Philip's book and how you can order your copy now:
Pensacola's Soda Water Legacy 1837-1998
Updated January 26, 2016
Another Excellent New Bottle Book Now In Print!
It is often said that "good things come in threes" and that is definitely true when it comes to newly published books by Southern-based collectors. In the past six weeks we have enjoyed announcing the availability of The Coca-Cola Bottling Plant by Joe Belliveau, and the second edition of A Head's Up On Koca Nola by Charles David Head. We are now equally excited to present information about Ken Badgley's newly published volume, The Collectors Guide to Tampa Embossed Soda Bottles 1880 to 1939. Ken has skillfully combined his in-depth research skills and top quality publishing know-how to produce an outstanding contribution to our hobby's steadily growing body of quality reference sources. Here's the book's cover, just a hint of all that Ken's new book holds in store: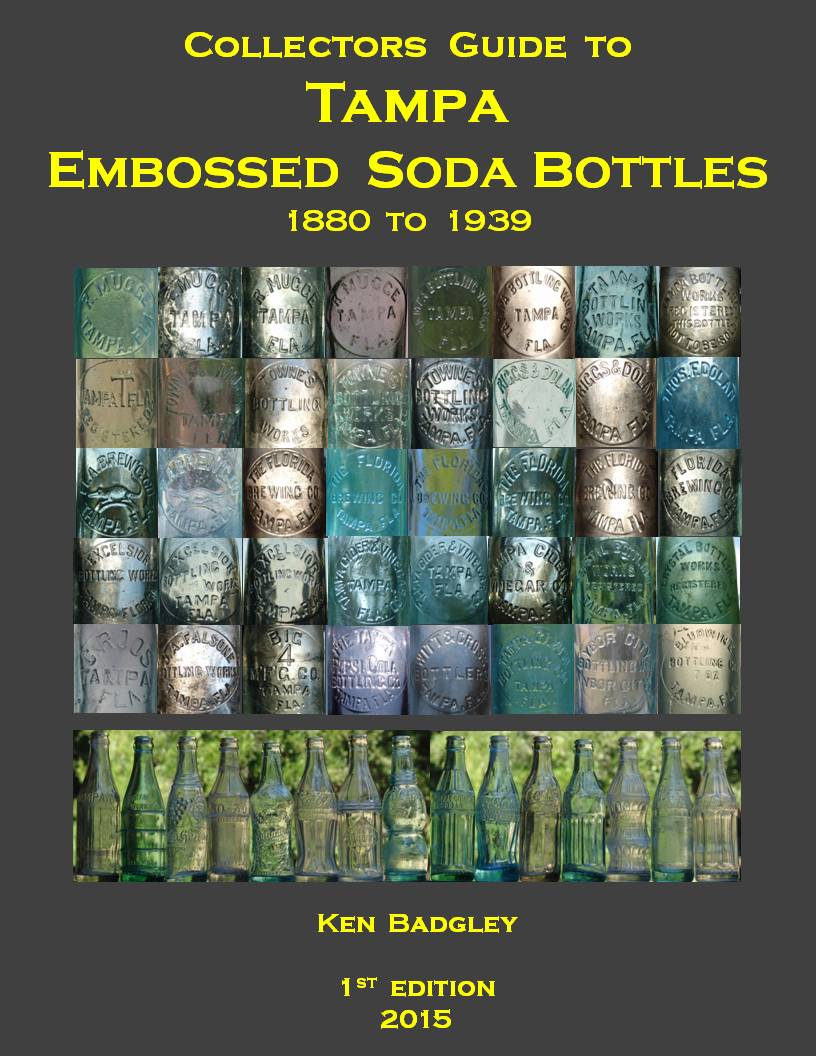 Click the following link to navigate directly to HutchBook.com's "Bottle Books For Sale" page with full details about this limited edition and how you can order your copy now!
The Collectors Guide to Tampa Embossed Soda Bottles 1880-1939
Updated January 19, 2016
The expanded, second edition of A Head's Up On Koca Nola is now available via mail order! Author Charles David Head will also have copies available for purchase at several upcoming antique bottle shows, starting with the Rome, Georgia show on Saturday, January 30, 2016. Click the following title link for full details:
A Head's Up On Koca Nola (Second Edition)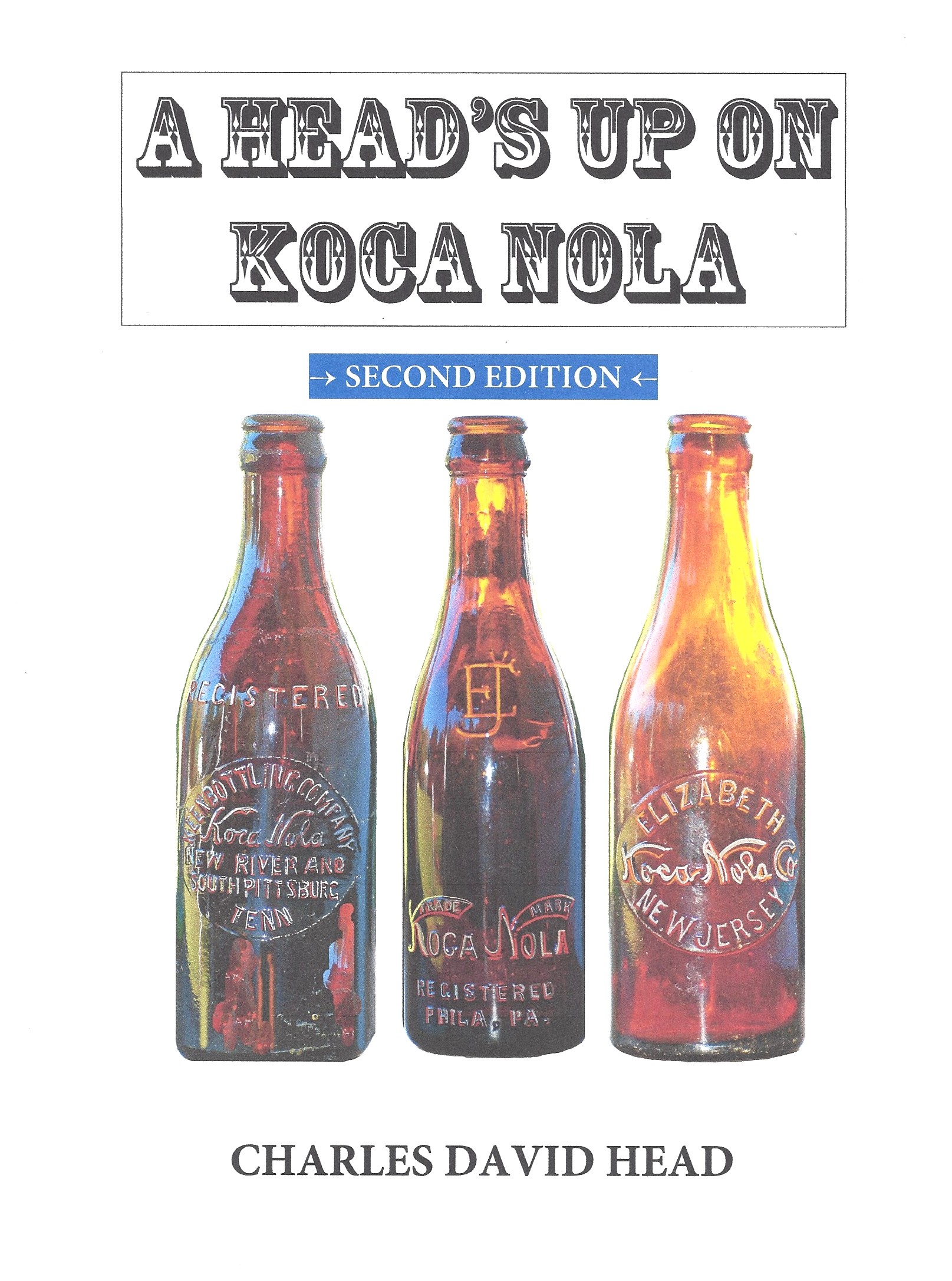 Updated January 15, 2016
Kill the Hutchinson Myths!
An index to the "Archived 2013 Hutchinson Highlights" articles has once again been posted in the "HutchBook.com Development" listings at the bottom of this Home page. Scroll down and click the link to the articles, search the index for the topic you are seeking, and click the title for a quick link to the article.
The impetus for re-posting these articles was the total waste of time exchanging EMail messages with supposedly experienced collectors who continue to repeat tired Hutchinson myths, stubbornly refusing to read, comprehend, and share factual information with their fellow collectors and the public. Unfortunately these collectors will probably never learn anything new because they already believe they know everything. Click this link to the Archived 2013 Hutchinson Highlights index to view/review these articles concerning Hutchinson myths:
Hutchinson Myths That Just Won't Die

Hutchinsons Were NOT Used For Bottling Beer

Pure Food and Drugs Act of 1906 did NOT "ban" usage of Hutchinson bottles!
Lastly, here's a link to another article about a Hutchinson myth that refuses to die:
Updated: December 31, 2015
1976-2015: The HutchBook Initiative Turns 40
Work on the Hutchinson Bottle Directory initiative began in 1976 and it is hard to believe that today marks the close of our 40th year of effort on this project. Wow. Contemplating this milestone gives even more credence to the old saying that "time flies when you're having fun." The list of those freely contributing their time, energy, and bottle data to this project is extensive and it is certainly worth recognizing all of you who have participated for so long. Your consistent, strong support is truly appreciated, particularly by those of us who have been involved for the entire 40 year duration of this project.
Today also brings down the curtain on the twelfth consecutive year of non-stop effort on what has steadily evolved into becoming HutchBook.com. 2015 has been yet another very busy year, with the majority of our time focused on maintaining, growing, and steadily improving the quality of all the data we are capturing. Here's a brief overview of 2014 vs. 2015 statistics for comparison purposes:
2014 2015
Daily updates: 360 360

Individual listings updated: 5,796 3,894

New Hutchinsons catalogued: 865 482

Total Hutchinsons catalogued: 18,793 19,275

Hutchinson Lists updated: twice once

Total Hutchinson images posted: 11,320 15,211

# Hutchinson images added: 5,820 3,891

Hours invested: 1,650 1,369
The decreases in the numbers of individual listings updated, new Hutchinsons catalogued, and number of Hutchinson images added is exactly what we expected. The 482 new Hutchinsons catalogued this year was a lot of bottles, but just over half of the 2014 total and an indication there are fewer and fewer totally new ones awaiting identification.
We are continuing to work thru 40 years worth of paper files and have now completed them up thru Nebraska. Completing a review of the paper files by year end 2015 proved unrealistic, and we have revised the target completion date to year end 2016.
The hours invested into HutchBook activities this year dropped considerably from 2014 and is deserving of a brief explanation. Cutting back was an intentional move in order to carve out the time necessary to work on three other major writing projects:
The first half of the year we devoted considerable time to finding, contacting, and gathering information from our high school classmates and ultimately publishing a 76 page souvenir booklet for our 50th reunion in July. We also developed and are continuing to maintain companion reunion pages on another web site.

Another major book project was the publication of a second edition of A Head's Up On Koca Nola by Charles David Head. Since publishing his first edition two years ago, Charles continues to research the Koca Nola Company and has identified several previously unknown franchisee bottlers. All of the newly discovered material was integrated into the second edition. The completed books left the printing plant yesterday and are currently en route to Charles. He will be selling them at several 2016 bottle shows, starting with the Rome, Georgia show in late January. KocaNola.com will soon be updated for those interested in ordering their book(s) via snail mail.

The third book project is a soft drink industry-related history that has been my highest writing priority all year long. Now that the high school reunion and Koca Nola books have been published, this major research and writing challenge has moved onto the front burner with the heat turned up to "high." We will, of course, also continue to focus on daily HutchBook database updates, adding new and replacement Hutchinson images, etc. So many fun things to do, so little time!
Updated: April 24, 2016
Is Your Bottle A "True" Hutchinson?
Numerous on-line auction sellers do a poor job of describing the bottles they are listing and are likely left wondering why their bottles didn't sell. We routinely see Hutchinsons incorrectly listed as beers (they were NOT used for beer!), whiskeys, milks, medicines, and various other categories. Likewise, a broad array of bottle styles are often incorrectly described as Hutchinsons or "Hutch type" bottles. We understand the challenge facing sellers with little or no bottle collecting knowledge, but wonder why so many experienced bottle collectors often fail to accurately describe their bottles. Understanding the basic types of closures is not difficult, even for those styles often confused with bottles that utilized Hutchinson's Patent Spring Stopper. If you are interested in improving your sales, review the "Hutchinson Bottle Sales Guide" in HutchBook.com's Collecting section and incorporate the suggestions into your on-line bottle listings. Here's a link to the page:
HutchBook.com Development
HutchBook.com is designed to serve as a widely used reference source that will benefit collectors, historians, archaeologists, and other interested users. The Hutchinson Bottle Collectors' Association (HBCA) sponsors free public access to HutchBook.com. HBCA members support and promote historical research by collecting, preserving, studying, documenting, displaying, communicating, and sharing information about the antique bottles that utilized Charles G. Hutchinson's Patent Spring Stopper.
Since the Hutchinson Bottle Directory initiative's founding in 1976, over 1,000 people have contributed bottle data and related information for this project. The following portions of the site document the project's historical development:
HutchBook.com Implementation
Phase I: Hutchinson History (launched September 30, 2009)
HutchBook.com Phase I focuses on historical development of the North American soft drink industry during the 1879 to World War I Hutchinson Era. Site content includes extensively researched, factual documentation concerning: the origin of the term "soda pop;" the evolution of bottle closures, including 30+ stopper patents often confused with Hutchinson's Patent Spring Stoppers; a history of the W. H. Hutchinson and Son company; Hutchinson's lawsuits; the American bottling system; pre-Hutchinson Era bottling; Hutchinson bottles; the Hutchinson bottling process; and much more. Printed out, the content is 300+ pages in length!
Phase II: Bottle Directory (launched August 1, 2012)
HutchBook.com's newest feature is the Hutchinson Bottle Directory, a fully searchable, free access database cataloguing extensive data on over 19,600 different Hutchinson bottles. The powerful new "Hutchinson Search" engine is a gateway to detailed data about the Hutchinson bottles utilized in all U.S. states and territories, Canadian provinces, and several foreign countries. Users have access to numerous pre-defined, printable lists of Hutchinson bottles, plus lists of bottles in popular collecting categories, such as colored and picture Hutchinsons. The database is continually updated to ensure users have access to the most current and accurate Hutchinson information available.
To access the database and its related features, click on the Bottle Directory link located in the left side navigation bar on any HutchBook.com page.
Phase III: Bottle Illustrations (commenced August 1, 2012)
Phase III is the addition of photographs, scans, and computer-assisted drawings to accompany individual Hutchinson bottle listings. Over 16,600 images are now posted on-line, with thousands more to be added in months to come.