Advertising
Although W. H. Hutchinson & Son continued to protect their patents throughout all of the years they were manufacturing and selling Hutchinson's Patent Spring Stoppers, in time they stopped threatening legal action against imitators and instead emphasized the higher quality of their genuine stoppers. Here's one of their advertisements from the December 15, 1897 issue of Western Bottler, the "Monthly journal of the bottling trade in soda water, mineral water, beer, ale, porter, Weiss beer, cider and wine," published in Chicago and New York City. The illustrated stopper has "W. H. H. & S." stamped into the bottom of the button: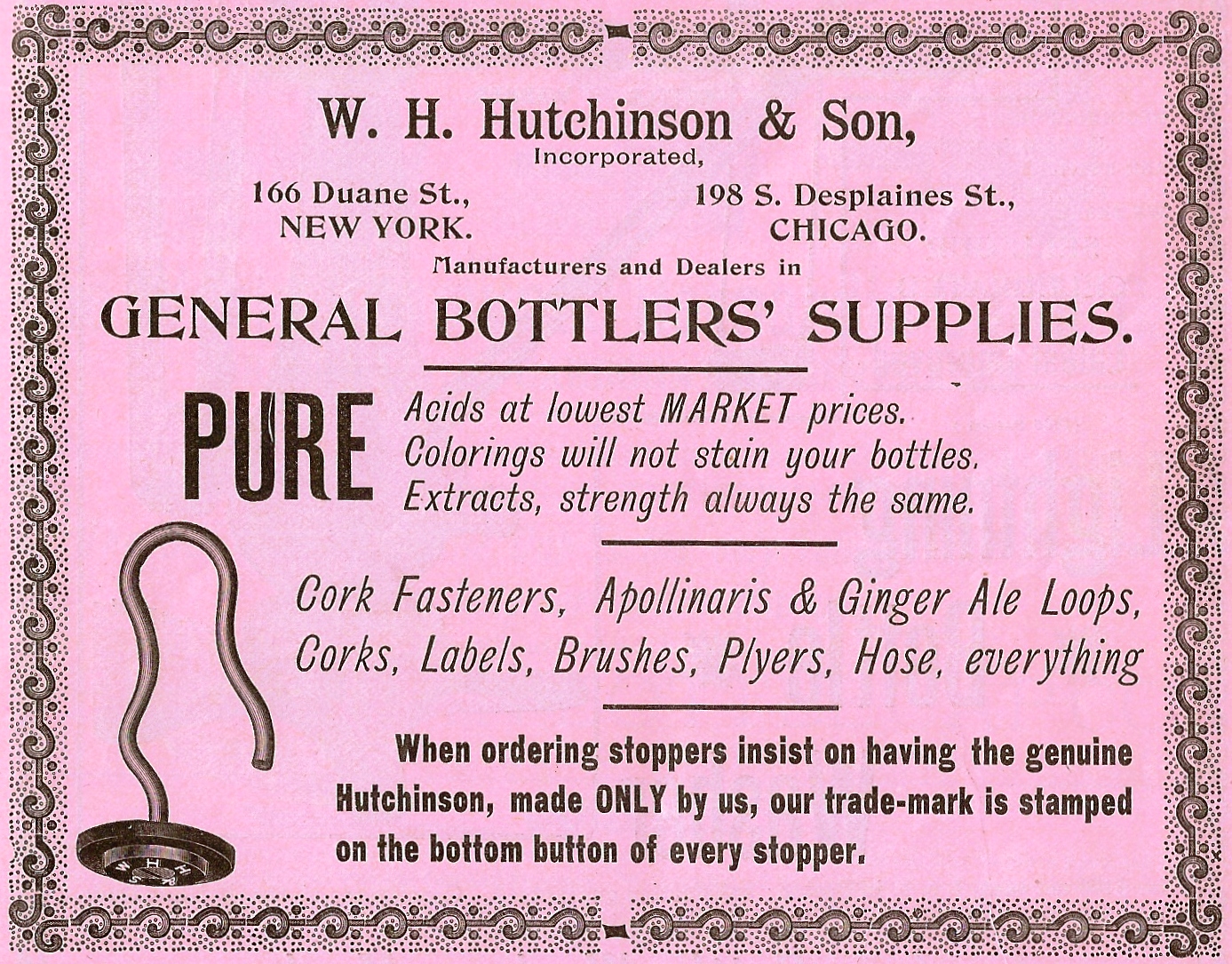 W. H. Hutchinson and Son's 1908 Bottler's Book included a two page advertisement focused on the "inferiority" of "low priced stoppers." The six identical stopper illustrations accompanying the advertisement (one shown below) reveal that between 1897 and 1908 they switched to stamping the "W. H. H. & S." initials into the edge, rather than the bottom of the button:
Hutchinson's Patent Spring Soda Bottle Stopper
We are the original manufacturers of this well-known stopper, so widely popular because of superior merit. 25 years of practical experience in its manufacture enables us to offer the trade a stopper which has no equal in efficiency. Our success has been attained by the use of the best material, the most careful attention to every detail, and knowledge of the requirements of practical bottlers, resulting from long experience and careful thought…
As stoppers similar to the Hutchinson in general appearance are sometimes offered at a price below the cost of a satisfactory and efficient article, we wish to say a word in explanation of the inferiority of these low priced stoppers.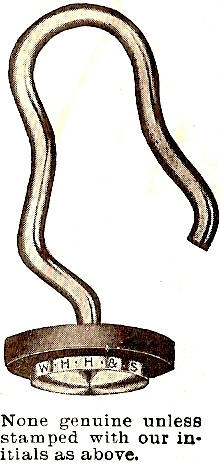 If the springs are made of cheaper stock than the specially tempered brass wire which we have found it necessary to use, they do not have sufficient elasticity, and in use become contracted and lose their shape.
If the buttons are made of soft metal they are easily pulled or twisted off the springs. If the buttons are not carefully inspected and accurately gauged, they will not run evenly and will not fit the bottles.
If a cheaper quality of rubber is used for the discs, they are not gas tight, deteriorate rapidly and must often be renewed.
We know that stoppers of other manufacturers have occasioned complaint from causes above noted. Our stoppers are as nearly perfect as skill and experience can make them.
The 1910 W. H. Hutchinson and Son Bottlers' Supplies catalog carried the same basic message.