William Painter Bottle Stopper
U.S. Patent Number: 468,226 Patented: February 2, 1892
U.S. Patent Number: 468,258 Patented: February 2, 1892
U.S. Patent Number: 468,259 Patented: February 2, 1892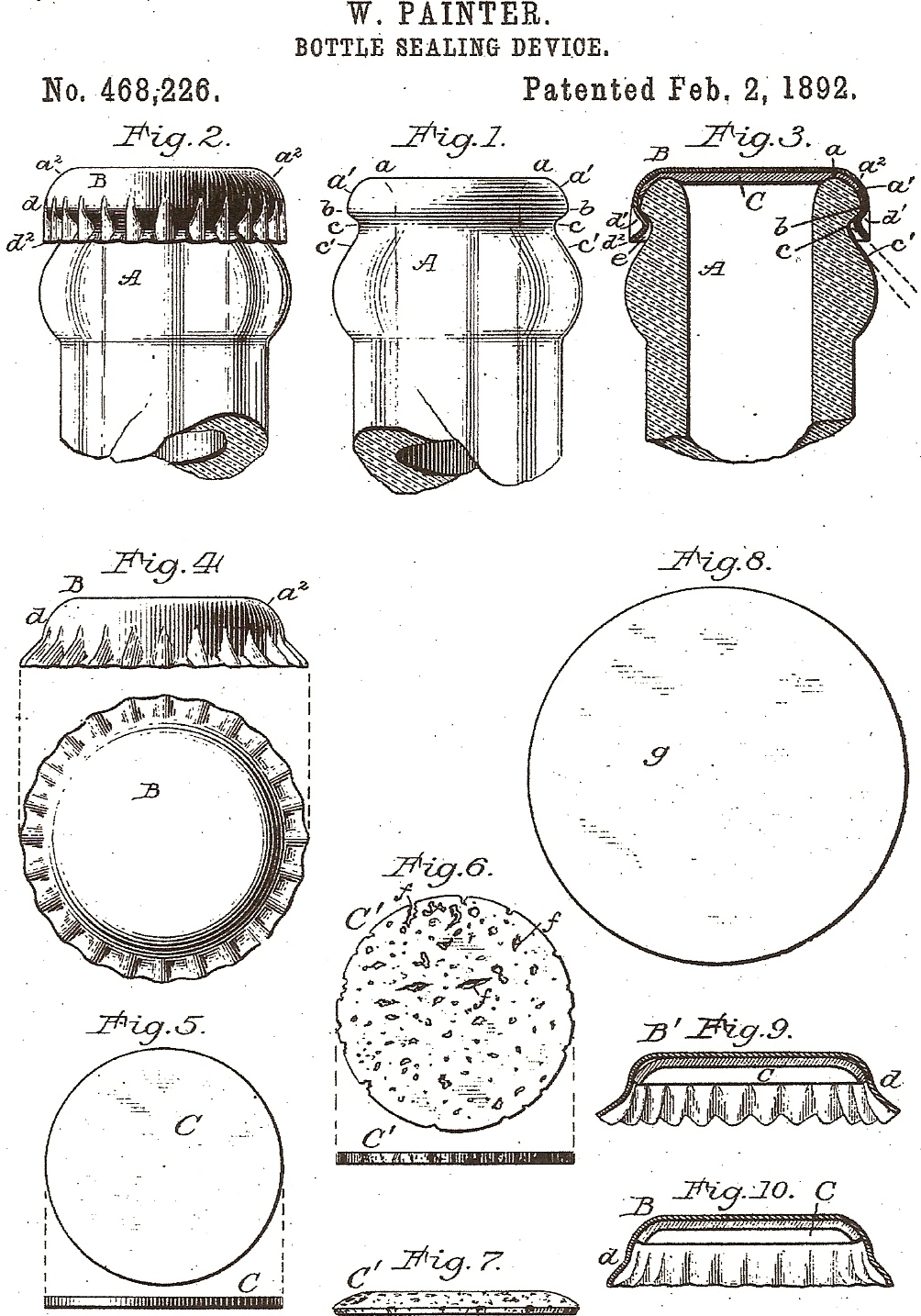 William Painter filed separate "Bottle Sealing Device" patent applications November 5, 1889 (renewed October 6, 1891), June 16, 1890, and May 19, 1891. All three patents were granted February 2, 1892. Painter's highly-detailed drawings and patent specifications clearly illustrate and explain the evolutionary development of his "Crown Cork" system. The illustrations shown above accompanied Patent No. 468,226 (the 1891 filing) and specified:
I, William Painter, of Baltimore…Maryland, have invented certain new and useful Improvements in Bottle-Sealing Devices…(pertaining to) the sealing of bottles by the use of compressible packing-disks and metallic caps, which have flanges bent into reliable locking engagement with annular locking-shoulders on the heads of bottles, while the packing-disk is in each case under heavy compression and in enveloping contact with the lip of the bottle.
In order that the status of my present improvements may be properly defined with respect of novelty and utility, I deem it proper to briefly review the prior art in this special connection. So far as my knowledge extends, I am the first to seal bottles by means of sealing-disks each compressed into close solid contact with the lip of the bottle and maintained in that condition by means of a flanged metallic sealing-cap, the flange of which is bent or crimped into locking contact (while the disk is under pressure) with an appropriate annular locking-shoulder on the head of the bottle, as well as the first to devise methods and means by which in the use of such caps and disks liquids can be bottled under even the highest gaseous pressures employed in this art…
Considerable manual force must be applied for detaching the caps from the bottles, and therefore in the early stages of my invention the use of loops of some kind or of equivalent holes in the tops of the caps was deemed essential, and the caps had wide or deep pendent flanges and they contained sealing-disks of considerable bulk or thickness…Contingencies led, after much devising and experimenting, to the production of a cap without a loop or hole in its top, a thinner disk, and consequently narrower flanges, thus substantially reducing the cost of the sealing device as a whole without decreasing, but in fact increasing, the efficiency of the applied cap, and also securing higher sealing efficiency by the use of a less expensive disk…
These improved caps having in themselves no special provision – such as loops or openings in their tops – for detaching them from bottles led to my further devising a novel method of their combination with the bottle, in accordance with which the pendent edge of the flange below the bent portion is so far projected from the adjacent surface of the bottle-head as to afford an engaging-shoulder, to which a bottle-opener could be readily applied…The disadvantages to consumers incident to a positive requirement for the use of specially-constructed openers are obvious, and to avoid them I have now so devised my loopless and close-topped caps and have so organized a combination thereof with the bottles that the cans can be almost as readily detached by the use of a knife, a screw-driver, a nail, an ice-pick, or any usually and readily available pointed instrument…
Referring to the drawings, Figure 1, in side view, illustrates a bottle-head adapted for use in combination with my cap and a sealing-disk. Figs. 2 and 3 respectively illustrate in side view and section a bottle-head with one of my caps and a sealing-disk applied thereto. Fig. 4, in side and top views, illustrates a cap prior to its application to a bottle. Fig. 5, in top and edge views, illustrates a sealing-disk of a composite character in its normal form. Fig. 6, in top and edge views, illustrates a sealing-disk in its normal condition composed of ordinary cork and fairly indicating the open or porous character of such disks as have been successfully used by me with my caps in maintaining gas or air tight closure even under much higher pressures than are ever needed in bottling. Fig. 7 illustrates a cork disk in the form which is made to assume within the cap and after it has been subjected to heavy pressure for reducing its hard spots. Figs. 8, 9, and 10 respectively illustrate a sheet-metal blank from which the cap is formed, the shape first developed therefrom and the final shape, these being in section with the sealing-disks therein.
Comments:
William Painter's patent specifications provide detailed insight into the numerous challenges he encountered and successfully overcame while designing caps, seals, the bottle head's contoured lip, etc. The complete patent specifications are fascinating, but aren't the focus of this review and therefore were not included in their entirety. Painter's highly successful Crown Cork seal capped off (pun intended) the broad range of bottle stopper patents that triggered the curtain to fall on the Hutchinson era.