Imitations
W. H. Hutchinson & Son considered any other firms manufacturing stoppers for Hutchinson bottles (and cutting into their own sales) to be "imitations." Many of the manufacturers whose closures are detailed in the accompanying bottle stopper patent information certainly fit this description.
One of the well-known bottling industry suppliers apparently infringing Hutchinson's patents was the Bernardin Bottle Cap Company in Evansville, Indiana. The same December 15, 1897 issue of Western Bottler that ran the W. H. Hutchinson & Son advertisement illustrated on the Advertising page also included this advertisement for Bernardin's "CYCLONE Spring Soda Stopper:"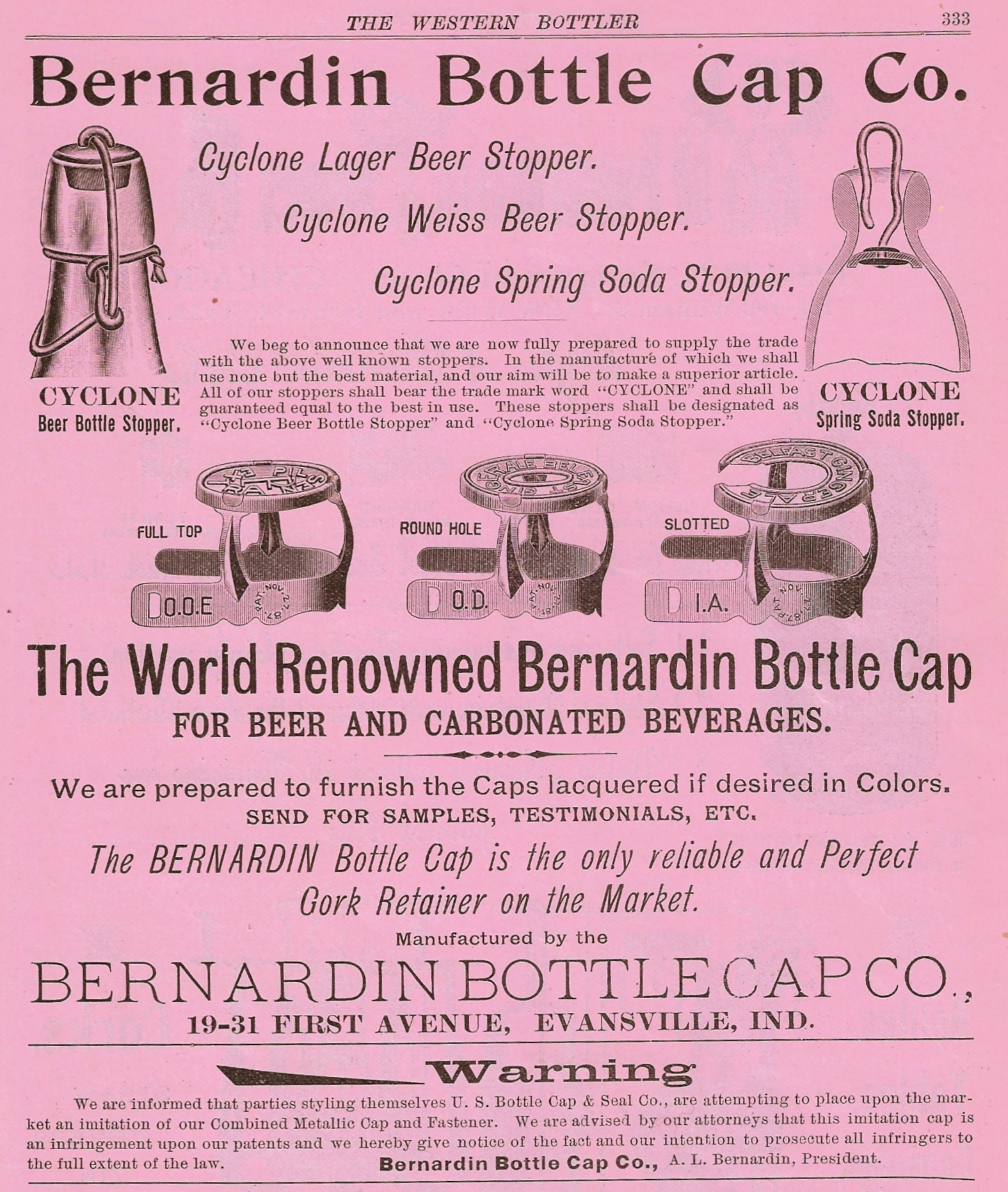 It seems strangely ironic that Bernardin had the nerve to attach the "Warning" at the bottom of his advertisement. Bernardin received a patent for his "World Renowned Bernardin Bottle Cap" November 27, 1887, and this warning indicates he intended to prosecute anyone who dared to infringe his patent. Meanwhile, he himself was ripping off both the Lightning Stopper and Hutchinson's Patent Spring Stopper! Be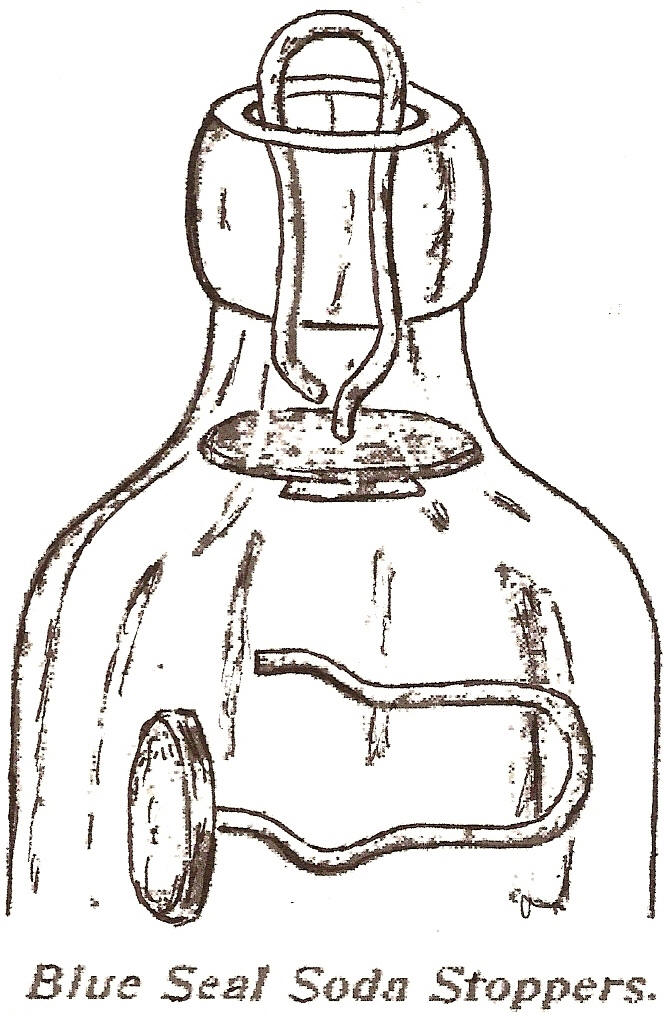 rnardin filed and received a Trade-Mark (No. 30,269) for the "Cyclone" name, but there's no indication he attempted to patent a spring stopper under this name. Bernardin's advertising boasted "Our Cyclone Soda Stoppers are guaranteed superior to any other make – we use nothing but the highest grade metal and rubber." The button of his stopper was stamped "CYCLONE B.B.C.CO."
Another supply house marketing Hutchinson-type stoppers was the Blue Seal Supply Company of Boston, Massachusetts. Circa 1900 they were advertising "Blue Seal Soda Stoppers" for $1.15 per gross.
Following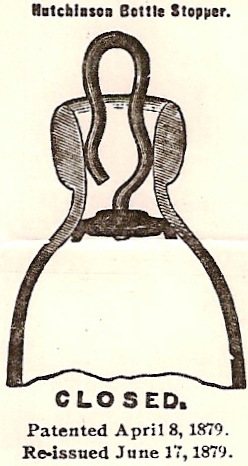 their legal battles, Henry W. Putnam and W. H. Hutchinson & Son established a business relationship that had Putnam supplying genuine Hutchinson stoppers to the industry. Putnam's National Bottlers' Gazette advertisements listed Hutchinson's stoppers by name, and even specified Hutchinson's 1879 patent dates. Hutchinson stoppers were $1.50 per gross when the accompanying 1901 illustration was published as part of a Putnam advertisement.
In 1909 and 1910, The Bishop & Babcock Company (a major bottling industry supplier with offices in Cleveland, Chicago, New York, St. Paul, Milwaukee, and Cincinnati) advertised genuine "Hutchinson Patent Spring Soda Stoppers" ($1.50 per gross in 1909 and $1.25 per gross in 1910). They also offered a "Hutchinson's Style Soda Stopper" for $1.10 per gross. Here's the listing from their 1909 catalog: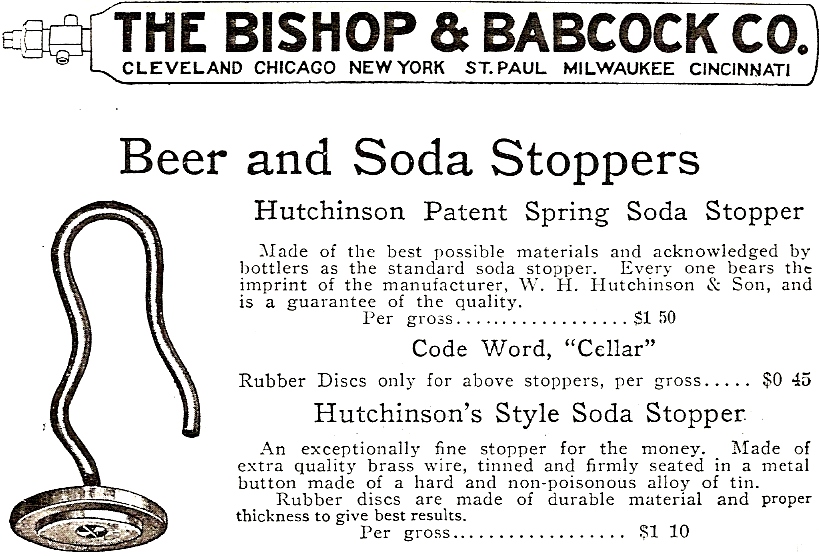 The W. H. Hutchinson & Son 1908 Bottler's Book advertised Hutchinson's Patent Spring Stoppers ("None genuine unless stamped with our initials") for $1.25 per gross. Two years later the W. H. Hutchinson and Son Bottlers' Supplies catalog advertised "genuine Hutchinson Pure Tin Stoppers" for $1.50 per gross. The price increase is interesting, especially considering they were also offering:
Star Stoppers
The same in all respects as the Genuine Hutchinson Pure Tin Stopper, except that type metal is substituted for tin and they are molded plain, without our initials on the button. Not guaranteed to meet the requirements of the Pure Food Laws. Made in No. 4 size only.
Per gross ………………………….…………….. $1. 10
Most likely the negative description was an intentional marketing ploy intended to encourage bottlers to purchase the more expensive, genuine Hutchinson stoppers.